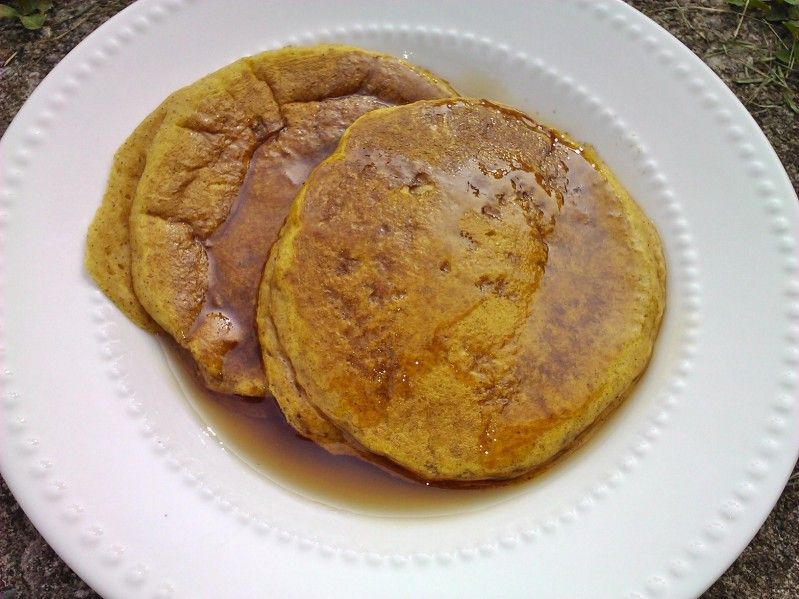 Are you drooling yet?
You should be, because these are super yummy!
I was so chilly this morning that I needed something a little more comforting than my normal bacon & eggs breakfast.
I had a little bit of pumpkin left over in the fridge from my Pumpkin Cinnamon Rolls last week and decided the best way to use it up would be pancakes!
Here's what you need:
2 cups flour
2 Tbsp brown sugar
1 Tbsp white sugar (or Splenda)
2 tsp baking powder
1 tsp baking soda
1/2 tsp salt
1 1/2 cups pumpkin puree
1 HEAPING tsp ground cinnamon
1/2 tsp ground ginger
1/4 tsp ground cloves
pinch of nutmeg, if desired
1 large egg
1 1/2 cups milk (skim or 1% is fine)
2 Tbsp apple sauce OR vegetable oil
2 Tbsp lemon juice
Combine the flour, sugars, baking soda, baking powder, and salt in a bowl and whisk it together.
In another bowl combine remaining ingredients – Then slowly add in the flour mixture and whisk just until moist. You'll probably have a few small lumps, that's OK.
Heat a non-stick electric griddle to 350 (or lightly spray a skillet with non-stick spray and heat over med-high heat.)
Pour batter by the 1/4 cup and cook about 2 mins per side.
Serve with warm maple syrup, pecans or walnuts – Heck, throw in a side of sausage too!
This makes a nice big batch so don't worry, there's enough to share with the kids. This will make four to six servings.
Now sit back and relax and enjoy all the glorious pumpkin things that Fall has to offer!
Here's the printable version of this recipe: http://allrecipes.com/personalrecipe/63350508/jewels-pumpkin-pancakes/detail.aspx
**Don't forget to  visit my full website for all my recipes. www.MyColorfulCooking.com**